Introduction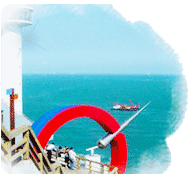 Yeongdo Lighthouse was placed into operation in December 1906 and is one of Busan Port's representative landmark sitted at the southeast end of Taejongdae Resort Park. Yeongdo Lighthouse is securing Busan Port which is the first Port in Korea and has provided a guiding beacon of light to ships around Busan Port. It matches with heavenly landscapes around the port.

In addition, Yeongdo lighthouse is Busan's famous tourist site by its surrounding attractions such as "Sinseon Rock", "Jagal Madang", odd shaped cliffs and magnificent offshore view of Busan, and visited by over 2.2 million people in every year. Yeongdo Lighthouse is also a popular place where lovers come on dates, an excellent place of learning to promote a maritime culture among youth, and a place to feel the pull of home for the middle-aged people. Yeongdo Lighthouse is the place where people can have a heart full of hope as watching the red sun rising from the sea horizon and busy ships striving through waves.
Lighthouse Information
Location
181, Jeonmang-ro, Yeongdo-gu, Busan (N35 ˚ 05.3 'E129 ˚ 06.9')
The first lighting day
December 1, 1906
Light Function
Wave cover
Clear and machine: PRB-20
Etc. Quality: 18 seconds 3 white light flash Island
Optical dalgeori: 24M (43.8 ㎞)
Sonic cover
Whistle once every 45 seconds (electric horn)
Whistling 5 seconds, 40 seconds jeongmyeong
---
Facilites
A Multi Purpose Maritime Cultural Facility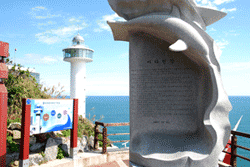 Bringing nature and architecture together. Yeongdo Lighthouse is designed to serve an observation deck to appreciate the view of sea and allowing a free access to the in and out of the building as well as the upmost stair.

In addition, by facilitating various developmental maritime cultural spaces such as Observation Deck, See & Sea Gallery, Maritime Library, Information Library, and Natural History Exhibition Hall that can promote love and attention toward maritime, Yeongdo Lighthouse has transformed into an one of most desired places to visit in Busan.
Facilities and Cultural Space
| | | |
| --- | --- | --- |
| | | |
| Natural History exhibition | SEE & SEA showroom | Information Library |
| | | |
| Marine Theater | Observatory | Cafe Blue Sea |
---
Tourism attractions
Nearby Places of Interest

---
Location
Address
181, Jeonmang-ro, Yeongdo-gu, Busan
Tel : 82-51-405-1230
Busan City Bus Information Management System http://bus.busan.go.kr
How to get to Yeoungdo LightHouse
By Subway
Station
Date of First Operation
Nampo-dong Station
· Bus No. 88 and 30 from the old Busan City Hall
· Bus No. 30, 8, and 13 from Nampo Policy Box
Jungang-dong Station
· Bus No. 88 and 101 from Jungbu Policy Station
Busan Station
· Bus No. 88 and 101 from the opposite side of Busan Station
By Bus
Station
Route No.
Take-off
Route No. to Taejongdae
Haeundae Beach
General
109,140,240
Old Busan City Hall
88,30
40, 40-1, 139, 140, 240
Busan Station
88, 101
Reserved Seat(Special)
302, 140, 240 (2001, 2002)
Busan Station
88,101
Gwangalli Beach
General
41, 42-1
Busan Station
88,101
Reserved Seat(Special)
41
Busanjin Market
101
Jagalchi Market,
Nampo-dong
General
Nampo-dong(Nampo Policy Box)
8,30
Reserved Seat
Nampo-dong, Coastal Wharf
8
Songdo Beach
General
7, 9, 39, 71, 96, 134, 30
Nampo-dong(Nampo Policy Box)
8,30
Reserved Seat
Old Busan City Hall
88
Seomyeon
General
88
88
Reserved Seat
Old Jin-gu Office Cheonwujang
88
KBS
General
42-1
Busanjin Market
101
109, 139
Old Busan City Hall
30,88
Reserved Seat(Special)
302 (2001, 2002)
Busan Station
88,101
Old Busan City Hall
General
30, 88
Coastal Wharf
General
101, 8